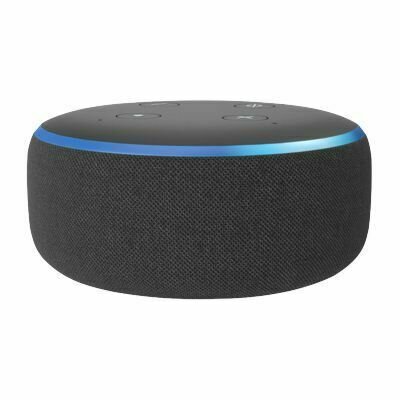 Alexa Voice Activated Solutions
SKU 87320
Product Details
Home automation designed for individuals living with sight-loss. The Low Vision Shop will pre-configure your Alexa device so you can start using voice commands for your routine tasks.
Product is only available for individuals residing in the United States of America.
Read books to you

Play your favorite music and radio stations

Place and receive phone calls

Alert family and friend if in distress

Search the Internet

Do your shopping

And, much more
The Low Vision Shop is proud to be an Amazon Echo expert, striving to help improve quality-of-life for individuals living with sight-loss. We will deliver your Echo fully configured, specifically for you. Tell us what you would like, and we'll do the work for you. After completing your purchase, you will receive an email with a questionnaire. Simply complete the form and your Echo will help keep you connected with family and friends, make day-to-day tasks easier and more convenient, and even keep you safer in your home.
Alexa provides a wealth of benefits. There are more than 25,000 skills available for Alexa (a number that grows daily). You can think of an Alexa skill the same way you do an App for your Smartphone. Just as there is an App store, there is a skill store. However, the Alexa user doesn't have to download anything, a simple voice command makes the skill available. For instance, let's say you want the CNN skill; you'd simply say, "Alexa, enable CNN." A few seconds later, you have the CNN skill available to you. Our Voice constantly monitors skills coming to market that are most relevant to seniors and those with physical challenges.
The Amazon Echo can be a valuable tool in enhancing the lives of those dealing with vision issues. A lot of day-to-day activities can be accomplished using voice only. Placing a phone call is as easy saying, "Alexa, call John Smith's mobile phone." When someone is calling you on your Echo, Alexa will announce who is calling. To accept the call, simply say, "Alexa, answer."
Amazon Prime members can shop by voice. With close to 500 million products in Amazon's inventory, it's almost certain they will have the product you're looking for. The Echo makes reordering products very easy. For instance, when low on paper towels, you'd say, "Alexa, reorder paper towels." In no more than a day or two, your favorite paper towel brand and size are at your door. Shopping by voice is not only convenient, it restores a vital sense of independence.
If you are in distress, Alexa can immediately alert family and friends. Alexa responds to your command for help by calling, texting, and emailing the people identified on your emergency list.
Alexa will play your favorite music and radio stations, manage your calendar, read your books and podcasts, get your news and weather, and much more; all by voice only. No software to learn or update, no keyboard or icons to press; you simply speak.
Even if you already own an Echo, that's no problem. With more than 100 million Echo devices sold worldwide, it is one of the most successful products of all time. In fact, in its first year, Amazon sold more Echos that Apple sold iPhones in it first year. However, research shows people are not taking advantage of all the Echo has to offer, using less than 2% of it's potential.
Save this product for later
Illuminated
Handheld
Magnifiers
Explore our wide range of illuminated Eschenbach magnifiers.
MOBILITY
CANES &
ACCESSORIES
Discover the finest mobility canes & accessories from Ambutech.