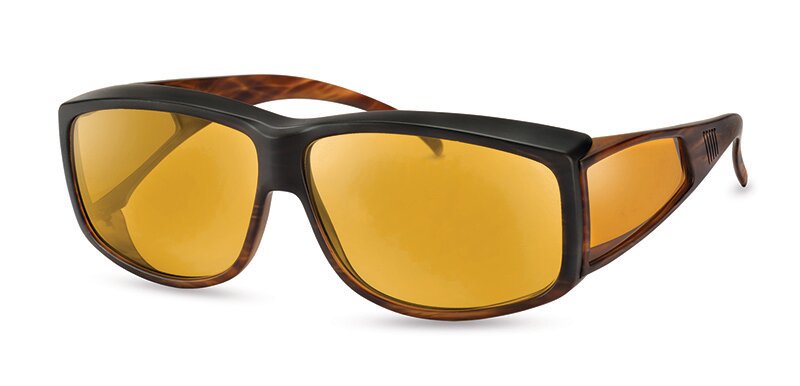 WellnessPROTECT Eyewear - Extra Large Black/Brown
SKU 1663-9
Product Details
WellnessPROTECT® Eyewear features amber lenses that protect the eyes by blocking light 470nm in wavelength and less, cutting out most blue light. The attractive frame provides protection, comfort, and style as well as side and top protection. The protection comes from shields on the top and bottom of the lens as well as from a custom made side shields. Although providing excellent, full coverage, the shields still allow air to circulate freely avoiding the fogging-up effect that can occur with more snug fitting eyewear.

"Off-the-shelf" options are available in 5 tints: WP15 Light Amber, WP50/15 Gradient Amber, WP65 Dark Amber, WP75P Darker Amber Polarized, and WP85 Darkest Amber. These tints give users a choice in how much overall light they wish to have blocked, and the gradient option provides the ability to block more light looking straight ahead, and less light when looking down.
Prescription Correctable
WellnessPROTECT Eyewear is also available without tinted lenses so you can offer a prescription-corrected option to your patients while still getting the benefits of the fashionable frame and protective side shields. Eschenbach carries the popular contrast-enhancing tints found in SolarShield line including yellow (450nm), orange (525nm), amber (511nm) and plum (400nm).
Specs:
Lens Type: Blue-blocking (470nm) lenses; blocks 100% UVA and UVB
Frame Size: 65 mm
Temple Size: 145 mm
Bridge Size: 12 mm
Style: Top, bottom and side shields
Rx-able: Yes
Tint Color: 5 tints: a light 15% brown, a darker 65% brown, a darker 75% brown polarized, the darkest brown 85%, or a gradient 50%-15%
Accessories: Protective case (included)
Save this product for later