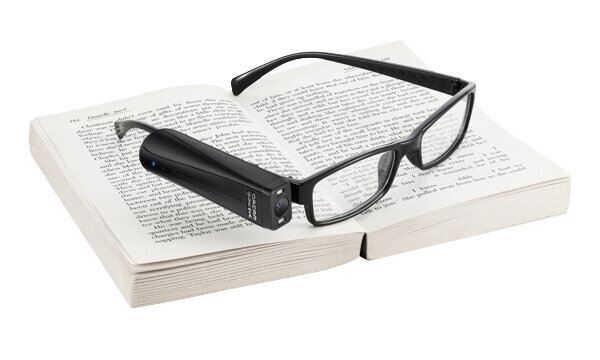 OrCam MyEye 2 Pro
SKU ORC004
Product Details
OrCam MyEye 2 Pro

For the Blind and Visually Impaired.
MyEye 2 Pro offers new functionality with enhanced new features.
Interactive Reading

An innovative groundbreaking feature, harnessing Natural Language Understanding (NLU), OrCam incorporates this pioneering technology to bring you Interactive Reading. The Interactive Reading feature enables you to find specific information in any document faster than ever before. Whether you are reading a newspaper or a restaurant menu, you can now use voice commands to find a word, headlines, dates, amounts, and more.
Support for wireless streaming to Starkey Livio Edge AI Hearing Aids
Orientation (Beta – Testing Stage)
This new and unique feature helps you orient within your surroundings. It announces and directs you towards objects that are 6 to 30 feet away. The MyEye 2 Pro can identify the following objects: doors, chairs, cups, ascending stairs, screens (TV, computer and mobile devices), and tables.
***Please note that it is not an obstacle detector and is not intended to replace a guide dog or a mobility cane. This feature is in Beta (testing) mode and OrCam will collect feedback from users.
OrCam MyEye 2 Pro, the most advanced wearable assistive technology device for the blind and visually impaired, that reads, recognizes faces, identifies products, and much more.
For additional OrCam MyEye 2 Pro details, click here.
---
OrCam MyEye 2 Pro Features


Read Text
Including: newspapers, books, menus, signs, product labels and screens.



Recognize Faces
Real time identification of faces is seamlessly announced.


Identification of products, enabling an independent shopping experience.

Easy-to-Use



Intuitively responds to simple hand gestures.

Portable



Small, lightweight, and magnetically mounts onto virtually any eyeglass frame.

Works Everywhere
Tiny, wireless, and does not require an internet connection.

Voice Commands



More than 20 intuitive voice-activated commands available for easy device use.

Bluetooth



Connect with Bluetooth enabled devices, allowing for headphone or speaker use.

Recognize Barcodes



Hundreds of thousands of product barcodes can be instantly recognized.
---
Product Information

Dimensions: 76 x 21 x 14.9 mm/3 x 0.83 x 0.59 in
Weight: Device: 22.5 gr/0.79 oz Device+Box: 553 gr/19.5 oz
Battery: 3.7V DC, nominal 320mAH
---
Easy-To-Use

Cutting-edge technology that is simple and intuitive, OrCam MyEye 2 Pro can easily be used by children, adults, and the elderly alike. It can read any printed or digital text.

---
Warranty
2-Years. Includes continuous phone and email support.
Save this product for later